FOREST PARK, Ga. — The "Queen of Cumbia" will be celebrated during Selena Day on April 15 in Forest Park, Georgia. City leaders announced the inaugural celebration honoring the bicultural music icon.
The event will include a best Selena Quintanilla-Perez look-alike contest with karaoke, food, crafts, and of course, music at Starr Park from 11 a.m. to 5 p.m. on Saturday.
Selena was an American singer-songwriter who became known as the "Queen of Tejano Music." She rose to fame in the late 1980s among Mexican Americans and Mexicans, and her popularity quickly grew across U.S. and international Latino markets. Selena played for crowds of 80,000 and won a GRAMMY for Best Mexican American Album in 1994. At the time of her death, Selena was recording her first album in English, her native language, and had opened several fashion boutiques. She was killed on March 31, 1995, by the president of her fan club, who also managed her clothing stores. Selena was 23.
Forest Park City Councilman Hector Gutiérrez organized the event after a resurgence in the popularity of the "Bidi Bidi Bom Bom" singer among a new generation.
"This aims to generate a positive impact on the community, which at the same time is putting Forest Park on the map as a multicultural destination," he said in a news release.
In 2017, her posthumous crossover album Dreaming of You sold more than 2.9 million copies in the U.S., making it the best-selling Latin album of all time in the country — more than a decade after its original release, according to Nielsen.
Netflix also debuted the biographical drama series "Selena: The Series" in 2020, with Christian Serratos portraying the iconic Mexican-American and introducing the artist to a younger generation.
Selena Day is free to the public. Starr Park is located at 5301 Park Ave, Forest Park, Georgia. Event details are below.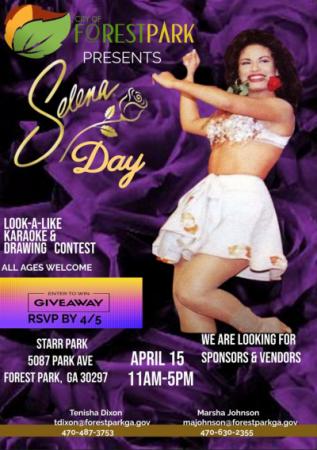 Follow Tejano Nation on Facebook, Twitter, and Instagram, and subscribe to our YouTube channel to keep up with everything Tejano. Listen to new Tejano music first with our playlists on Spotify and podcast on iHeartRadio.
---
The San Antonio singer-songwriter achieved her goal of recording her debut album
A petition calls for Freddy Fender to be first Hispanic inducted into Country Music HOF
The six-part docuseries won Documentary Feature Award at the 2023 Accolade Global Film Competition.
---