SAN ANTONIO, TX — The Tejano Conjunto Festival is the first and longest-running conjunto festival in the country and is internationally recognized as the most influential event for this beloved and popular Texas musical tradition. The lineup for the 41st annual Tejano Conjunto Festival was announced on Tuesday (Feb. 28) and the official poster for the event was also revealed. This festival is the opportunity to hear the very best in conjunto music from all across the many different styles played regionally in Texas. 
The lineup for the 41st Annual Tejano Conjunto Festival will feature "Puro Conjunto Pesado: Lo Mejor de Tejas" with three days of the best in conjunto music. On Friday, May 19, the festival kicks off with Joe Zimmerle y su Conjunto, Los Tellez, Javier Solis y los Unikos, Ruben de la Cruz and Ruben Garza, the South Texas Homies, and Ricky Naranjo y Los Gamblers.  
On Saturday, May 20, the festival features Conjunto Cats, Isaac De Los Santos y La Sangre Chicana, Ricky Guzman y Los Tres Ases, Conjunto Baraja de Oro, Los Cucuys de Rodney Rodriguez, Los Fantasmas, Los Monarcas de Pete y Mario Diaz, Lazaro Perez y su Conjunto, Los Garcia Brothers, and Tony Tigre Saenz. 
On Sunday, May 21, the Tejano Conjunto Festival closes out with an incredible old-school line-up, made up of Cindy Ramos y su Conjunto, Grupo Azido, the Tejano Boys, Los Badd Boyz Del Valle, Santiago Garza y Naturaleza, Los Conjunto Kingz de Flavio Longoria, Edgar Vasquez y su Conjunto, Eva Ybarra, Los Texmaniacs featuring special guest Flaco Jimenez, and Boni Mauricio y Los Maximos. 
In addition to the live music and dancing over three days at Rosedale Park, the 41st Annual Tejano Conjunto Festival will feature a free Wednesday, May 17th seniors dance with music from Santiago Jimenez, Jr. and Eddie Lalo Torres, and new inductions into the Hall of Fame with a special dinner and dance on Thursday, May 18 at the historic Guadalupe Theater. 
The Guadalupe Cultural Arts Center announced Elisa de Hoyos as the winning artist for the 41st Annual Tejano Conjunto Festival en San Antonio 2023 poster contest. Her winning poster, selected by judges in an open competition, will be used for all promotion and marketing for the 41st Annual Tejano Conjunto Festival, which takes place May 17-21, 2023 at the Guadalupe Theater and Rosedale Park.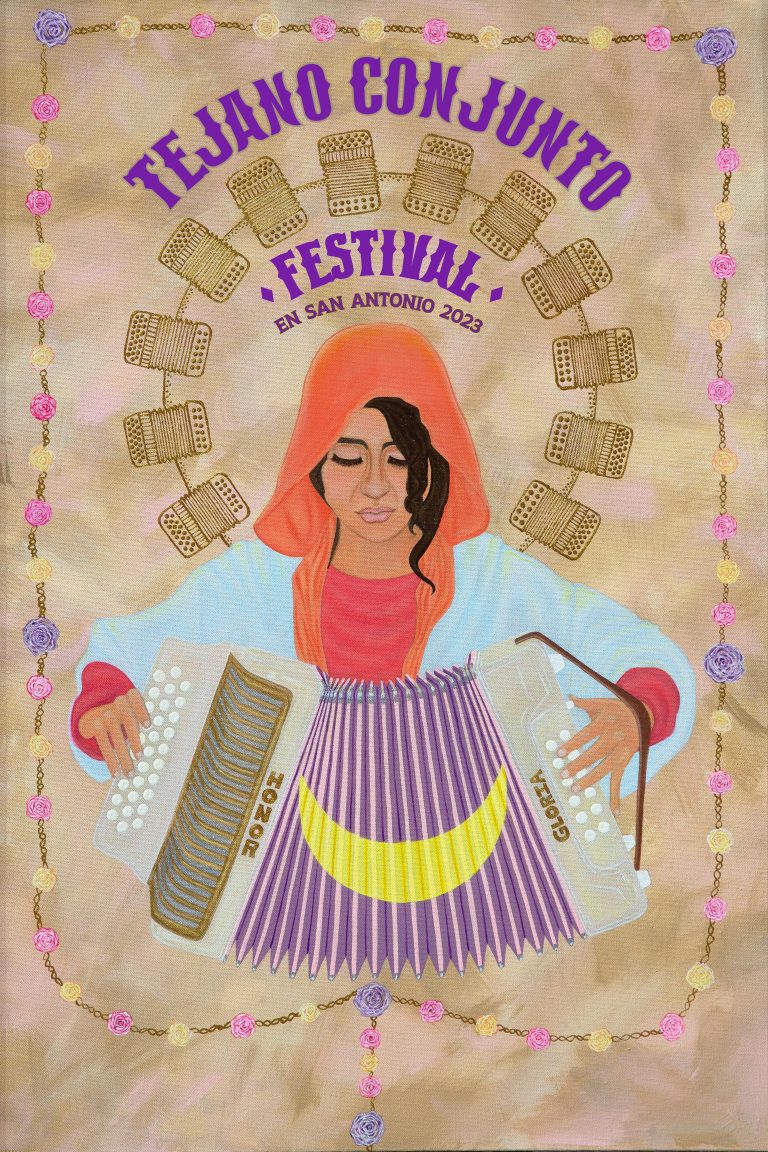 The Tejano Conjunto Festival poster contest provides opportunities for students in middle school, high school, and college categories to compete for the top prize alongside the open and professional categories.  The top prize for this winning poster is $2,000. The winning posters, honorable mentions in each category, and all of the other entries are available for viewing at the Progreso Gallery next to the Guadalupe Latino Bookstore at 1300 Guadalupe St, San Antonio, Texas. 
The winner of the middle school category was Gabriela Mejia. For the high school category, the winner was Ava Rocha, and the winner in the college category is Michael Alvarez. There were more than 100 entries. Guest judges included Adriana Garcia, an award-winning San Antonio artist, and Rambo Salinas, owner of Friends of Sound Records.
Each spring for the past four decades, the Conjunto Festival en San Antonio has presented live performances of all of the founders, popular performers, and heritage award winners of the genre, along with dances, workshops, Hall of Fame inductions, and other events. The festival draws an enthusiastic audience of more than 10,000 fans, dancers, and musicians from across Texas and the United States, as well as Mexico, Europe, and Asia. The crowd has grown massively over the years to include fans who return each year to dance and celebrate conjunto culture. The festival has become a model for many other conjunto festivals which have appeared since it started and is credited with highlighting the singular music and culture of South Texas Tejanos.
Tickets for the 41st Annual Tejano Conjunto Festival en San Antonio will go on sale Wednesday, March 15, and will be only $45 for a weekend pass. Tickets will also be available at the Guadalupe Latino Bookstore (Historic Progreso Pharmacy Building), 1300 Guadalupe St. Latino Bookstore hours are Tues – Sat, 10:00 a.m. to 4:00 p.m.
For breaking Tejano news follow Tejano Nation on Facebook, Twitter, and Instagram, and subscribe to our YouTube channel for exclusive artist interviews. Listen to new Tejano music first with our playlists on Spotify and podcast on iHeartRadio.
---
The Latin Grammy winner shared his squeezebox knowledge with young fan
The Latin Grammy-nominated singer will pay tribute to iconic songs written by her father with upcoming project
The #1 chili lime seasoning and the #1 best-selling beer brand in the U.S. market announce new collaboration that brings a flavor-bursting Chelada to the market
---